TRADE MANAGEMENT CHALLENGES
Obstacles to Optimizing Your Investments
Many companies who have implemented significant initiatives to improve their trade promotions returns have not achieved their desired results. The challenges to more effective trade management are multiple and varied: a single solution rarely works! A quality customer planning process is the critical pathway to success and it is a road with many obstacles.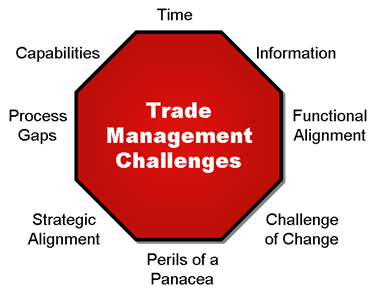 What trade management challenges are you facing?
Time

: Do the day-to-day demands of managing your business limit the time your organization can spend to develop and monitor more effective customer plans?

Capabilities:

Do you have the skill sets to transform information to actionable insights and create quality customer plans from them?

Information:

Do you have visibility of the right information to develop effective plans and monitor their execution? Is your organization paralyzed by too much information and too little actionable insight?

Functional Alignment:

Are the roles of all functional participants in your planning and trade management processes clear, distinct and adhered to?

Process Gaps:

Have you defined a comprehensive and fact-based process for creating customer plans? Are the roles and responsibilities clear to all key participants in your process?

Strategic Alignment:

Do you clearly translate your brand strategies and business objectives into planning parameters for your sales organization?

The Challenge of Change:

Is your organization struggling with changing from the old way they developed customer plans and managed trade funds? Do you have an organizational change plan?

Perils of a Panacea:

Have you made a substantial investment in a planning tool but are not realizing its full potential? Have you changed the way you do the work?
Contact Trade Management Partners today to help address your challenges!