FUNCTIONAL MISALIGNMENT
Teamwork is Critical
Are all the "cogs" in your company team aligned and working together to effectively manage your trade promotion investments? Effective trade management requires critical contributions from multiple functions including sales, marketing, trade marketing, finance and others. You are an aligned organization if all have a clear understanding of their distinct roles and adhere to them. When an organization is functionally misaligned, critical areas of accountability often do not have an owner or have more than one claiming ownership.....and your company machine is not working as well as it should.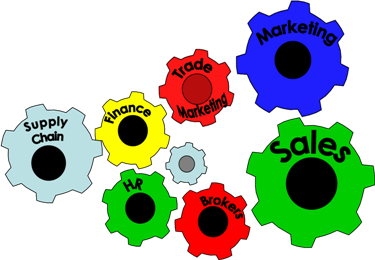 Symptom's of a Misaligned Organization
More time battling internally than battling the competition
Critical work has no clear owner and does not get done
Frequent fire drills
"Finger-pointing" and dissension
Causes of an Unaligned Organization
Misaligned functional objectives
Lack of clearly defined processes
Misaligned incentives
Different sets of numbers

Contact Trade Management Partners today to help align your organization!