THE CUSTOMER PLANNING PROCESS
Pathway for Effective Trade Management
Deploying an insight-driven,strategically-aligned and closed-loop customer planning process may be the most critical element in improving your organization's capabilities. Trade Management Partners recommends a process that incorporates several critical steps: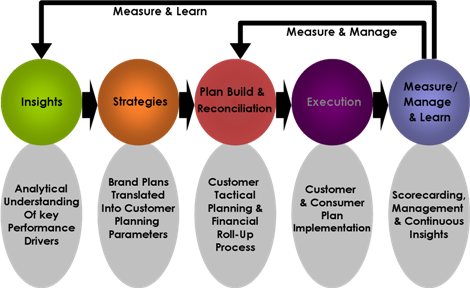 How do you build customer plans?
Do you use

Quantitative Insights

to build your plans?


Do you have the availability and visibility of needed information?

Does the organization have the capability to turn information into insight?

Does the organization know how to apply insights in plan development?

Do you translate business goals and brand strategies into customer plans?

Do you efficiently build customer plans that deliver your business objectives?

Do you close the loop on your planning with a

Measure-Manage-Learn

process?


Do you have key performance indicators (KPI's) identified and consistently monitored? Do they have clear "owners?"

Do you have a results management process in place to guide your management interventions?

Do you use your measurements to drive continuous learning and improve future plans?
Are you using technology to improve decision making and reduce administrative burdens?

Are your compensation and incentive systems aligned with the right behaviors to drive effective plan development and trade investment optimization?

Are all the key functional contributors aligned with defined and distinct roles? Are all players acting like they are on the same team?



Contact Trade Management Partners today to help you improve your customer planning process!